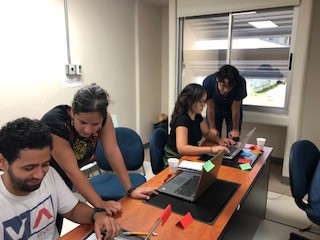 The South Hub created the DataUp program to enable researchers and educators to teach data science students and prepare them for future data-intensive and data-enabled environments.  On August 18, 35 learners packed the room, at the University of Puerto Rico- Rio Piedras (UPRRP), to participate in a hands-on workshop focused on data management and analysis for genomics research.  Students learned best practices for the organization of bioinformatics projects and data, use of command line utilities, use of command line tools to analyze sequence quality and perform variant calling, and connecting to and using cloud computing.   
This workshop, taught in English and Spanish, created such a buzz that a waitlist was created.  The waitlist included 13 individuals! As the first workshop of the program, the excitement is empowering to the program.  Learners gained valuable skills beneficial to the development of their current and future research while UPRRP witnessed the institutional interest regarding data science and genomics.  The South Hub continues to seek and provide opportunities to expand institutional and individual capacities for data science and analytics.  The excitement of the UPRRP community exhibits the need and desire for additional data related activities.  The next workshop in the DataUp program is on September 20-21 at the University of the Virgin Islands.
For more information regarding this workshop please read a blog post written by Humberto Ortiz, a workshop instructor, Click Here.
For photos of the UPRP workshop, Click Here.
Date Published
Tuesday, January 28, 2020 - 12:00 pm