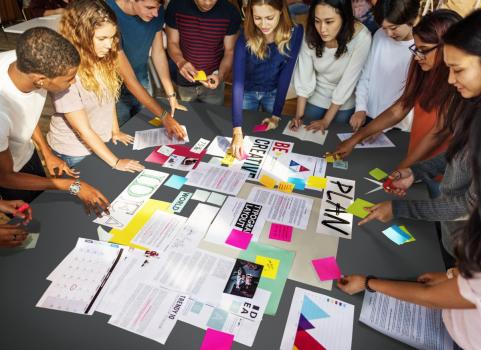 The Education & Workforce Working Group meets virtually on the first Friday of every quarter at 11AM EST!
The Education and Data Science Workforce Group consists of South Hub members from industry, academia, and government actively engaged in securing funding for and developing: (1) the use of government open data to support education and training in data science; (2) faculty and student data science training and curriculum development; (3) broadening and deepening the data science talent and workforce base; (4) connecting training in academia to industry and government needs, and (5) workforce development experiences for students to connect to industry, government, and non-profit organizations.
Chaired by Renata Rawlings-Goss
The South Hub Education and Workforce Working Group is seeking speakers for quarterly working group calls.  If you are interested in sharing your research, projects, or resources, please contact Carolyn Young and Renata Rawlings-Goss. 
The Data Science Education and Workforce Working Group is an open quarterly professional working group for data science educators and program leaders to talk and hear from other programs around the country, as well as learn about resources for connecting with data, tools, industry partners, and research. 
The focus of the group is to: 
Highlight funded Data Science education projects, programs, and resources 
Share best-practices for project-based courses & teaching approaches
Provide experiences with assessment or evaluation approaches for Data Science teaching or Data Science programs.
The Education & Workforce Working Group meets virtually on a quarterly basis, if you are interested in the group, join the mailing list.
Interested in Project-Based Teaching or Program Assessment?  
Join of our two sub-working groups focused on these topics.  These sub working groups are led by community members to define the direction of the sub-working group and the outputs needed in this community.  If you're interested in joining the Project-Based Teaching or Program Assessment sub-working groups, please contact Carolyn Young at carolyn.young@gtri.gatech.edu.
Resources for Learners, Educators, Program Leaders and General Purposes
Each quarter the speakers provide and reference valuable resources to benefit the Education & Workforce Community.  Resources include course curriculum, course designs, course materials, and other resources.
June 2, 2023 Presenters
Mahmoud Harding- Instructional Design Specialist for Data Science for Everyone

Title: A Project-Based Approach to Data Science at the High School Level

Abstract: Momentum for data science education is increasing nationally. In response,The Data Science Literacy Act of 2023(1) was introduced to increase access to data literacy education, improve data reasoning skills, and create models for national data education for students at the pre-kindergarten through postsecondary levels. What should these models look like for high school students? How can we design and implement high school data science courses that have aspects of data science as a profession and support growth in multiple academic disciplines? In this talk, we'll consider a project-based approach for a standalone high school data science course. Then we'll explore a model that has been used in both high school and undergraduate data science courses.

(1) Data Science and Literacy Act of 2023, H.R. 1050, 118th Cong. (2023)https://www.congress.gov/bill/118th-congress/house-bill/1050

 

Bio: Mahmoud Harding is the Instructional Design Specialist for Data Science for Everyone, a non-profit coalition working to advance data science education for all K-12 students. Previously, he has taught courses in mathematics and data science at the North Carolina School of Science and Mathematics (NCSSM) and at the Data Science Academy (DSA) at NC State University. During his time at NCSSM he co-developed introductory and advanced data science courses in both R and Python.

Debzani Deb - RJ Reynolds Endowed Professor of Computer Science & Founding Director, Center for Applied Data Science (CADS), Winston-Salem State University

Title: The Faculty Adopter Approach to Broadening Participation in Data Science

Abstract: Data Science is an essential concept for the twenty-first-century workforce, and as a result, the need to help all students acquire such skills has recently gained increased attention. However, most smaller schools face challenges in providing initial exposure to a broad student population due to lack of resources and expertise. This presentation details our experiences utilizing the modular approach to integrate data literacy into ten discipline-specific undergraduate courses. Rather than developing new discipline-specific data science courses, our approach integrates data literacy into existing courses by offering a week-long (or two weeks) context-sensitive module and associated hands-on activities. The facilitation of course preparation and implementation were supported via Faculty Adopter Awards at our institution, which supports enthusiastic faculty who are willing to infuse data science into their courses across various disciplines and are capable of quantitatively and qualitatively assessing the impact of their interventions. About ~200 URM students from various disciplines were exposed to data science throughout this program during the last two years.

 

Bio: Debzani Deb is the RJ Reynolds Endowed Professor of Computer Science at the Winston-Salem State University. She is also the founding director of Center for Applied Data Science (CADS) at WSSU. She authored and coauthored over 40 referred journal and proceeding articles and has been awarded nearly $ 3.5 million of federal funding as PI and Co-PI. She has over 15 years of experience in Higher Education as faculty member in three different countries such as USA, Australia and Bangladesh. Her research interests are in the areas of Applied Data Science, Machine Learning, Parallel and Distributed System, and Computing Education. She is the recipient of 2021 Wilveria B. Atkinson Distinguished Research Award at WSSU.

Judy Cameron, Ph.D., Director of Pittsburgh DataWorks

Title: Pittsburgh DataWorks – Overview

Abstract: DataJam is a year-long data science activity and competition for high school students to introduce, encourage and engage young people in data science in any subject area. DataJam was started in Pittsburgh, Pennsylvania in the 2013-14 school year, and is coordinated by Pittsburgh DataWorks (http://pghdataworks.org), a nonprofit educational organization with and Advisory Board with scientists from companies (such as IBM, Oracle, PPG) and faculty from a number of universities across the country to work together to develop and run DataJam to inspire high school youth to enter the field of big data science. For the past two years collaborators fromthe Northeast and West Big Data Innovation Hubs have helped us expand the DataJam nationwide. 

How does DataJam work? 

High school teams choose a research question they are interested in, find a data set(s) to analyze, learn how to organize and analyze data and make visualizations. Our trained DataJam mentors (college students) are available for online mentoring via Zoom to helpteams with all aspects of the project. 

In April 2024 teams will present their projects as posters and in slide presentations in front of a panel of judges, conducted on Zoom. A DataJam finale will be held virtually with teams from across the country and lots of awards will be given. 

Initiatives in 2023 

Over the past two years we have established virtual DataJam Hubs in New Jersey and California with a number of DataJam teams in each location, colleges participating in training DataJam mentors, and local businesses supporting the DataJam, as well as having teams from New York and Massachusetts participating. 

We are actively working to expand participation in DataJam and DataJam mentor training and would love to have participation in the South and Southwest!

 

Bio: Judy Cameron, Ph.D., is the Director of Pittsburgh DataWorks, an educational nonprofit that developed and has run the DataJam since 2013. She is also a professor at the University of Pittsburgh. Dr. Cameron has a long history of translating science to the public. She served as Director of Pitt Science Outreach from 2009-2019, which provides science education to more than 20,000 school age children and members of the public each year. She made a series of short films for PBS about the myths about mental illness, which first aired in 1995 and are still being aired today. She also teaches a college course entitled "Using Big Data for Community Good" that trains college students how to be effective mentors for the DataJam.
Working Group Chairs
Renata Rawlings-Goss-Georgia Institute of Technology (chair).
For questions please contact Carolyn Young (carolyn.young@gtri.gatech.edu) 
Date Published
Sunday, October 25, 2020 - 12:00 am