\The Program to Empower Partnerships with Industry and Government (PEPI-G) supports faculty members, research scientists, postdocs, and graduate and undergraduate students (rising juniors and seniors as of 2019) from the 16 states that comprise the South Hub. 
2019 Fellows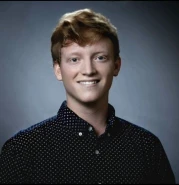 James Stevenson is an undergraduate student at Northern Kentucky University and is currently pursuing his degree in Information Technology with a focus on Cybersecurity. He's a technologist at heart and enjoys everything related to cyberinfrastructure, social cybersecurity, the Internet of Things, and data manipulation. His goals for his senior year of college are to gain professional experience in his career field and to develop his technical skills. This fellowship provided by the South Hub will allow him to reach these goals. 

Rachel St Clair is a doctoral student at Florida Atlantic University studying Complex Systems and Brain Sciences. Rachel's main focus centers in multi-modal, translational machine learning in complex systems and brain sciences. Her background in both medicine and biology helps structure the integration of machine learning models for both academia and industry applications. Previous work involves a variety of research fields including mental disorder diagnosis, epileptic mice investigations, and synthetic drug detection. Drawing from interdisciplinary experiences drives her current integrative research in deep learning proteomics, computer vision, and therapeutic XR platforms. Her future accomplishments aim to include advancements in advanced machine perception and general AI. Rachel notes, 'working with others who care deeply for the evolution of computerized cognitive task and their role in making the world a safer place would be a defining historical moment in my career path.' 
2019 Partner

The Department of Homeland Security – Advanced Research Projects Agency (DHS-ARPA) DA-E lab infrastructure consists of industry-standard servers and network gear, custom appliances built on the premise, and commercial and private cloud capabilities.  
DHS' identified Priority Areas:
Human Trafficking – Examining social media to aid in the fight against human trafficking focusing on Non-Text Data, Automating Search and Scalability
Real-time Analytics for Multi-party, Metro-scale Networks (RAMMMNets) – Data associated with the Internet of Things presents challenges to the analytic environments that inform human decision making
Other Topics – Faculty fellows may propose other research topics for consideration
Date Published
Sunday, September 1, 2019 - 12:00 pm